Tabletop Appliances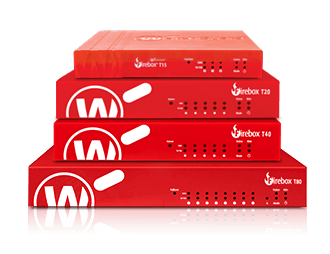 Firebox T15
Ideal for small sites that need VPN connectivity, such as remote and home offices. Available with built-in Wi-Fi capabilities.
Firebox T20
Ideal for sites with a few users and simple networking needs, such as remote virtual offices and homes. SD-WAN ready. Wi-Fi options available.
Firebox T40
Perfect for small to midsize organizations looking for a small form factor, strong throughput and enterprise-grade security. Built-in PoE+ port. SD-WAN ready. Wi-Fi options available.
Firebox T80
High-performance in a tabletop appliance. Best for sites with over 50 employees or busy, high-traffic locations. Built-in PoE+ ports. SD-WAN ready. Optional expansion modules available.
Rackmount Appliances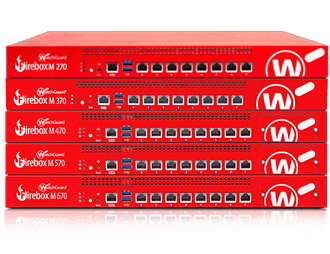 Firebox M270 & M370
Best-in-class UTM performance, ideal for small and midsize organizations with up to 150 users looking for a rack-mounted solution.
Firebox M470, M570 & M670
Supports growing midsize businesses with modular port options for greater flexibility as networking needs expand. Ideal for up to 850 users.
Firebox M4600 & M5600
Top of the line, with modular port options that allow businesses to create their ideal M4600 or M5600 deployment, and dual-redundant power supplies for highest performance and uptime. These appliances are ideal for the central headquarters location of a large distributed enterprise organization, offering optimal flexibility to evolve the appliance over time.
Cloud & FireboxV
FireboxV
WatchGuard FireboxV brings best-in-class network security to the world of virtualization, enabling your virtual environments to be just as secure as your physical one.
Firebox Cloud
WatchGuard Firebox Cloud provides the same award-winning UTM security available in our Firebox appliances to protect servers running in public cloud environments.